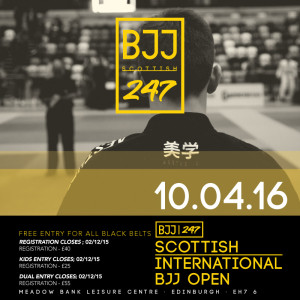 Sunday 10th April BJJ247 takes its annual journey up to the Scottish capital for the 8th SCOTTISH CHAMPIONSHIP 2016. The event is the biggest yet in Scotland with over 400 fights taking place on the day.
With plenty of large teams entered I've picked a few that we think will be in the running for team glory.
The top runners for the number 1 spot are Carlson Gracie Jiu Jitsu Team , Gracie Barra Glasgow , Checkmat  and MNBJJ , not far behind them we have a group of teams that will be stacking up the team points ; GFTeam , Griphouse , Gold Team , Gracie Barra Fife , SMAC and traveling club Aberdeen Combat Centre .
This is going to be an amazing event with plenty of action and fun along the way. Come down and enjoy the day as next year we will be in Glasgow as the Meadowbank Centre is refurbished.