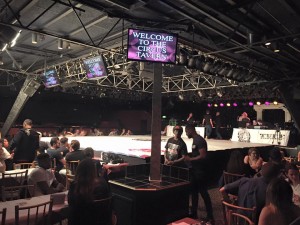 TUFF 4 Full Results and Recap
Last night, TUFF Invitational returned for its fourth installment and as usual, delivered an exciting card of submission only rules, live from the Circus Tavern in Purfleet, Essex.
Headlining the card was UK standout Ross Nicholls, who met a highly skilled opponent in Rodolfo Nygaard. Nicholls, a Cesar Lima black belt, was headlining for the second time in two events as he fought to a draw against Sam Gibson on TUFF3.
Nygaard, however, is no slouch. He made a successful submission only debut at the Toukon Challenge, pipping Pablo Medina to the win in 2014 and is known for his highly technical game. The London Shootfighters man was looking to derail Nicholl's building momentum.
It was, however, Nicholls who came out on top. He employed a patient, measured approach to Nygaard's game, ultimately sweeping, passing Nygaard's tricky and dangerous guard before finishing the fight with a deep Ezekiel choke from the mount. Nicholls showed a great display of maturity on the mat and really looks to be settling in to his black belt against very capable opponents.
Marco Canha brought a loyal fan base, as expected, and he delivered precisely what they wanted with a clinical performance against Andy Roberts. Canha started the contest by pulling guard and working the shin-to-shin that he is well known for, before passing with snake-like hips to then secure an extremely quick, and tight, arm bar.
Further down the card, Gracie Barra Derby's Sean McDonagh and Chris Rees Academy/East Coast Jiu-Jitsu Academy's Bryn Jenkins met in the final of the brown belt tournament. McDonagh was placed under the kosh by Jenkins, escaping an extremely tight arm bar before valiantly rallying to securing an arm triangle to take the title. You chould see the relief in the face of McDonagh as his arm was raised, as just seconds earlier he could have been forgiven for submitting to Jenkin's submission attempt. All in all, an inspirational performance over two contests which led him to deservedly emerge victor in the four-man tournament.
Elsewhere, Janis Rietskins took home both the purple belt title and the knee of Romao de Carvalho in a nogi, full ADCC rules contest. Both are exceptionally talented and hardworking young men and will no doubt meet many times in future.
Jack Cronin secured a late rear-naked choke on Igor Terreco to earn a W. Cronin has Impressed in competition of late, showing his recent promotion was more than due, winning the British Open in May just days after Austin Gardner tied a new belt around his waist. He also, more recently, took gold in the Kent Open and impressed, once again. He's increasingly becoming one to watch and TUFF will undoubtedly look to get him on the card again.
All in all, TUFF has been going from strength to strength and a lot of eyes will be on their next event, a landmark fifth show which was announced to take place in November. The full show can be found on the TUFF Invitational Facebook page or on YouTube (click here)
Derek de Lima vs Lewis Charlsworth – Draw
Gabby Hall vs Ke Jhen Peng – Peng (Triangle, 6m02s)
Isa Monstro Rahman vs Harrison Howe – Rahman (Arm Bar, 3m53s)
Brown Belt Tournament – Bryn Jenkins vs Steve O'Keefe – Jenkins (One Armed Choke, 7m29s)
Brown Belt Tournament – Lee Ambler vs Sean McDonagh – McDonagh (Triangle, 2m45s)
Emma Chamberlain vs Martina Zola – Zola (Mounted Triangle, 5m43s)
Ashley Amos vs James Sibbick – Amos (Ezekiel Choke, 4m40s)
EBI Rules – Jorge Rodrigues vs Sean Harper – Harper (Leg Lock, 3m10s)
Cameron Hibbert vs Mounir Haaziz – Draw
Ben Sulston vs Greg Cook – Sulston (Kimura, 4m47s)
Phil Harris vs Elliott Nurse – Harris (Triangle Arm Bar, 3m05s
Danny Dhell vs Jay Butler – Butler (Knee Bar, 2m42)
Title Bout, ADCC Rules: Romao de Carvalho vs Janis Rietskins – Rietskins (Knee Bar, 4m24)
Jack Cronin vs Igor Terreco – Cronin (RNC, 0m42)
Brown Belt Tournament Final: Bryn Jenkins vs Sean McDonagh – McDonagh (Arm Triangle, 4m04s)
Austin Gardner vs Paul Bridges – Gardner (EBI Rules Overtime)
Andy Roberts vs Marco Canha – Canha (Arm Bar, 12m25)
Ross Nicholls vs Rodoldo Nygaard – Nicholls (Ezekiel Choke, 8m10)
Submission of the Night: Marco Canha
Fight of the Night: Sean McDonagh vs Bryn Jenkins)